1951 Edinburgh People's Festival Ceilidh
presented by the Lomax Digital Archive
2021 is the 70-year anniversary of the 1951 Edinburgh People's Festival Ceilidh, the seminal event that heralded and generated the Scottish Folk Revival of the 1960s. Alan Lomax was on hand to record it in the Oddfellows Hall, and thus able to preserve a document of a legendary concert that alerted the astonished urban audience to the continuing vitality of Scotland's rich heritage of traditional song. People in the rich folk culture of the Gaelic-speaking West, or speaking the Doric accent of the North East, still held and sang their vibrant old ballads and songs of work, but the Central Belt city folk thought the songs entombed in old books. Until the 1951 Ceilidh. 
After it came a groundswell of enthusiasm for Scots song, house ceilidhs, concerts and campfires. The first of a wave of folk clubs began in 1960, with young people learning and singing the songs through lyric booklets and recordings. Dozens of artists—over the intervening decades to the present—have expressed the debt owed by Scotland to Ceilidh organizer Hamish Henderson and the original singers by sharing their own versions of songs performed at the event.
Hamish Henderson, poet Tom Scott, and Alan Lomax have come over the road from the School of Scottish Studies to the Old College Quad of Edinburgh University, where the students are battling rival supporters of candidates for Rector of the University. Actor James Robertson Justice won. The correct date of the photograph is 1957, though publications credit it to other years.
The People's Festival Ceilidh
In 1951 a grouping of left-wingers from the labour movement decided that a week-long People's Festival must be organised as a necessary counterweight to the lofty highbrow events of the Edinburgh Festival. In the Oddfellows Hall were organised concerts and film shows, lectures on arts and the people, and theatrical performances.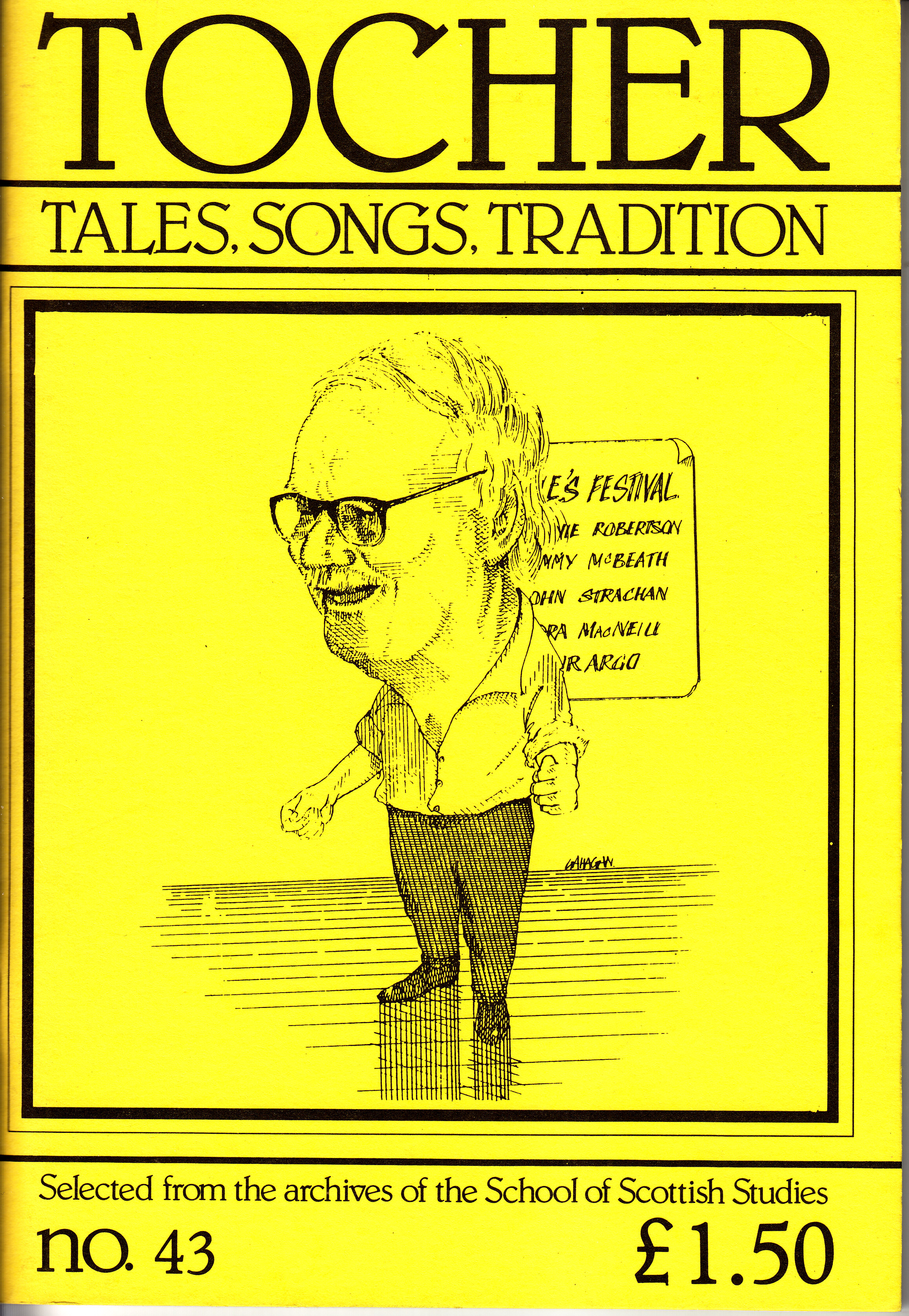 On Friday night was a fund-raising ceilidh. The Gaelic word "ceilidh" originally meant a visit to a house, but it became an announcement of a more formal performance event. Hamish Henderson was put in charge of selecting the performers: two Gaelic singers, four North East singers, and a piper. 
Edinburgh-based Hamish Henderson (born in Perthshire in 1919; died 2002), was a collector of song and story; a discoverer of many key tradition-bearers; a poet, translator, songwriter, and towering figure in the Scottish Folk Song Revival. The Ceilidh recording shows his legendary manner of presenting song and music—warm and inclusive, enthusiastic yet wry, knowledgeable and delighted to share what he had found.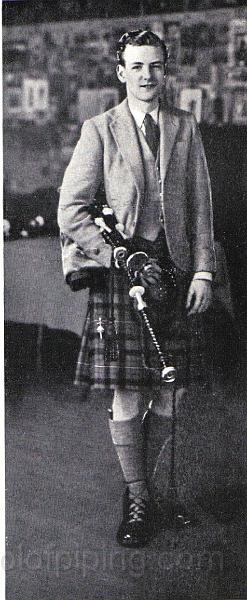 Cork Hill/Paddy's Leather Breeches/Paddy O'Rafferty
The remarkable piper chosen to frame the singing sequence of the Ceilidh was young John D. Burgess (1934–2005). Born in Aberdeen, he first learned to play the practice chanter at the age of four from his father John.
In 1950 John D. became, at the age of sixteen, the youngest-ever winner of the gold medals for piobaireachd at both the Argyllshire Gathering in Oban and the Northern Meeting in Inverness. Piper Seamus MacNeill described John as an infant prodigy who became a boy genius. According to Dougie Pincock, "the main things that set Burgess apart from his peers are his stunning technique, and the brisk speed that he takes a lot of the tunes at, even to this day. A successful competitor . . . but mainly known as a 'showman' piper, a great player, but also a great storyteller and character." Despite the Irish tune names, the first two tunes appear as "pipe jigs" in Scottish collections, and the third title is in Scots fiddle master Niel Gow's first collection of tunes. 
About Bothy Ballads
Bothies were very basic farm buildings where single ploughmen working with horses, and other less-skilled farm tasks, lived and messed together. 
Many songs termed "bothy ballads" were made by North East Scotland farm workers that commented on their work and fellow workers, and often criticised their employers - c.f., "The Guise O Tough," "The Barnyards O Delgaty." ("Harrowing Time" and "The Hairst O Rettie" are less the work of a ploughman than of a local wordsmith maker or village bard.) The bothy ballad genre was later developed in the twentieth century into comic songs about farm life, made by local paid performers and songmakers like G.S. Morris and Willie Kemp. The song titles suggest humour: "The Sprotts O Burniebouzie"; "The Weddin O McGinnis Tae His Cross-eyed Pet." Other songs gathered under the bothy ballad banner were not about farm life, but were sung of an evening in the bothy: "Skippin Barfit Through The Heather," "Tramps and Hawkers," "The Gallant Forty Twa."
The language and pronunciation of some of the songs in the concert are deep in the Doric dialect of the North East. Most present-day people in the North East, let alone the rest of Scotland, would have difficulty in fully understanding "The Hairst O Rettie"— or "The Tinker's Waddin," which was made far in the south in Peebleshire. The makers glory in the richness of vocabulary. Robert Burns drew not on North East language, but the tongues of Ayrshire and Dumfriesshire, choosing which pronunciation depending on what rhyme he needed.
A wealthy farmer, he was said to have taken a kindly, paternalistic interest in the welfare of his fee'd men, and was a highly knowledgeable champion of songs of farm life and of fine versions of old ballads. In 1930 the American collector James Madison Carpenter recorded John on wax cylinders, and invited him to come and sing to students in Harvard, "but," he demurred, "I wis pretty busy. I'd a lot o farmin to do."
His first song is a bothy ballad, precise in date and location, commenting with a professional eye on the work conditions; naming and shaming the author's fellow workers but, as usual, not including his own name. The farm of Guise is in the parish of Tough.
Aberdeenshire folk-singer, Iona Fyfe, has become one of Scotland's finest young ballad singers, rooted deeply in the singing traditions of the North East of Scotland. Winner of Scots Singer of the Year at the MG ALBA Scots Trad Music Awards 2018, Iona has been described as "one of the best Scotland has to offer." She is a bonny fechter in support of Scotland's song traditions.
Bisset and Liberty Reapers (top and bottom)
The song celebrates how the mechanical reaper's arrival in 1890 dramatically shortened hairst (harvest) time, and did away with the three-person teams of hand-scythe reaper, gatherer, and bander. It was written by blacksmith William Park of the huge farm of Rettie near the port of Banff. Willie Rae was the grieve (foreman) and, rather than have one of his horsemen drive the machine, he was working it himself.
The song reads like a TV advertisement for a new product, admired by a craftsman metalworker. Blacksmiths were themselves inventors and improvers of machinery. The 1890 Highland Show had a stand by Watson Brothers of Banff showing their "Victory back self-delivery reaper as designed by the late Mr. Murray, who was the first to bring out a back delivery reaper of the light pattern; and it must be gratifying to his successors to see other makers adopting the same principle." At another stand Bisset of Blairgowrie showed their "Speedwell" machine. How pleased would the "jolly hairster lads" (some of whom would have been women!) be to have their casual income cut from 42 or 49 days to 32, even though they experienced less back-breaking pain?
Skippin Barfit Through The Heather
As a fishwife living in the North East port of Buckie, Jessie Murray would have trudged from door to door, "a little lady" dressed all in black, wearing a black shawl, and with a basket of fish or shellfish on her back. She was a fisherman's widow, aged at least 70 in 1951. In the 1950s she was cared for in a home for elderly people. One day a visitor called, and a staff member said anxiously, "We worry that she's going from it. She thinks she is going to be on the radio tonight." The visitor replied, "She is, on an Alan Lomax programme!"
"I always remember Jessie Murray, and she came forward and gave a little curtsey to the audience. and she sang 'Skippin Barfit Through the Heather,' and of course these were songs you had never heard, and clearly the whole audience had never heard either." —Janie Buchan, Radio Scotland, 1994.
Skippin Barfit Through The Heather
Gordeanna Mcculloch
From CDTRAX123 GREENTRAX
Gordeanna's CD cover shows her with papier-mâché figures made by Jan Miller of core influential traditional Scottish singers: Jimmy MacBeath; white-haired Border shepherd Willie Scott;  and travellers Davie Stewart and Jeannie Robertson. All but Scott were recorded in detail by Lomax.
At school in Rutherglen beside Glasgow, Gordeanna was taught English and given a lifelong love of Scots song by Norman Buchan (who had helped organise and was inspired by the 1951 Ceilidh), and was reportedly "stunned' by this song sung by Jessie Murray. Though the lyric is in a man's voice, the song was much more popular with and often recorded from women singers. 
The modern versions in this Exhibit of songs first sung in the Ceilidh show how later performers have drawn on and combined Scottish, American and Irish traditional instrumental techniques to accompany the songs.
Tramps and Hawkers
Listen to the introduction
here
.
Jimmy was not a tinker, but of settled folk. He was born in the Buchan fishing village of Portsoy in 1895 and died in 1972. For most of his life Jimmy footslogged the roads of Scotland and beyond, earning pennies from singing the streets, and shillings from casual labour, living in "model" public lodging houses. At the end of the Ceilidh he informed the audience that this was his "swan-song" the culmination and the conclusion of his singing career: for reasons of ill-health and age he would never be able to sing at a similar function again.
But in the 1960s Jimmy began to be recorded commercially and to sing in folk clubs and festivals. Alan Lomax described him as "a quick-footed, sporty little character, with the gravel voice and the urbane assurance that would make him right at home on Skid Row anywhere in the world."
Tramps And Hawkers
Francy Devine and Steve Byrne
From digital album An Ownerless Corner of Earth
This is one of the most popular songs of young Revival singers, said to have been first made by Besom Jimmy, a much-travelled Angus-born hawker of the 19th Century who decorated his coat with feathers. Francy [left] has topped and tailed the lyric with dreaming verses written by Alan Reid of the Battlefield Band. Francy has a Scottish heritage, an English early upbringing and strong Irish roots, and is a core mover and shaker in the singing circles of Ireland. Scots singer and musician Steve Byrne supports Francy on this track. Steve is another prime organiser, a founder and continuing member of the innovative group Malinky, and an influential activist in the Scottish traditional music scene.
The 42nd Highland Regiment, also known as the Black Watch from the dark government tartan they wore, was formed in 1739 to keep dissident Highland clans in order. This lighthearted theatrical song, with its listing of Scots regiments, shows Jimmy's warm and winning way with songs other than those of farm life.
Blue Bonnets Over The Border
* * *
Audio Lyrics
Blue Bonnets Over the Border
March, march, Ettrick and Teviotdale,
Why the deil dinna ye march forward in order?
March, march, Eskdale and Liddesdale,
All the Blue Bonnets are bound for the Border.
Many a banner spread
Flutters above your head,
Many a crest that is famous in story.
Mount and make ready then,
Sons of the mountain glen,
Fight for the Queen and the old Scottish glory.
The song refers to the blue bonnet with white cockade worn by Jacobite supporters of the deposed Stuart king, James VII of Scotland and II of England, and of his heir, Charles Edward Stuart, known as Bonny Prince Charlie. "Blue Bonnets" is a metaphor for the Scots marching men who went "over the border" into England seeking a fight.
Sir Walter Scott's landmark work, Minstrelsy Of The Scottish Border, collected together many ballads of cross-border strife and warlike action. Borderers raided on both sides of the hilly Debatable Lands. 
Scott's own lyric names here where some of the prominent Borderers had their high towers. Is the Queen he refers to Scotland's tragic Mary Queen of Scots?
Oran Eile Don Phrionnsa (Another Song To The Prince)
Hear introduction to the song
here
Calum Johnston (1891–1973) was born in the Outer Hebridean island of Barra, worked as a draughtsman in Edinburgh, and retired to Barra. He died suddenly while playing his pipes for the funeral of novelist Sir Compton Mackenzie in violent weather. Calum and his sister Annie made a large number of invaluable recordings for the School of Scottish Studies. They came from a family of eight, raised on a croft near Castlebay on the Isle of Barra. Annie became a schoolteacher at Castlebay School, and was very helpful to Marjory Kennedy-Fraser's song collecting there. Calum became a prominent Gael in Edinburgh and was secretary and treasurer of the Highland Pipers' Society.  His song expresses delight in 1745 at news of the impending arrival of Prince Charles Edward Stuart, "Bonny Prince Charlie." It was composed by Alexander MacDonald (c.1700–1770), who was a first cousin of the famous Flora MacDonald. Alexander was the son of a clergyman in Ardnamurchan.
Oran Eile Don Phrionnsa (Another Song To The Prince)
Daibhidh Stiuhard (David Stewart)
From An Sionnach Dubh – The Black Fox
From Tullywiggan, Co. Tyrone, Daibhidh originally heard the song sung by Karen Matheson, then researched versions on the Tobar an Dualchais (Kist O Riches) website. In 2018 Daibhidh became the senior traditional singing champion for Tyrone and Ulster. He sings in the Ulster and Scots dialects, and Irish and Scots Gaelic.
Co Sheinneas An Fhideag Airgid? (Who Will Play the Silver Whistle?)
[NB: The beginning of this song was lost when Lomax had to change over his recording tapes.]
Flora MacNeil was born on the island of Barra. When she moved to work in Edinburgh in 1947 "she was already a most accomplished traditional singer, with a repertoire more varied and more extensive than anyone else of her age." She became one of the leading figures in the post-war revival of traditional Gaelic song. On a 1951 recording in Edinburgh she leaves the room after singing, then Lomax is heard to ask, "Gee, who's the dish?"
Co Sheinneas An Fhideag Airgid? (Who Will Play The Silver Whistle?)
Anne Lorne Gillies
IRCD 0562, IONA
Dr. Anne Lorne Gillies' family had a croft "tucked away under the hills on the southern outskirts" of Oban. She won the Mod Gold Medal for Gaelic singing in 1962. She writes: "This anonymous work-song borrows the conventional praise-poem image of a much earlier era to give us an unmistakable Gaelic flavour." (This and Gillles' other comments on songs are from her 560 page book, Songs Of Gaelic Scotland, Birlinn 2005, winner of the 2006 Ratcliff Prize.)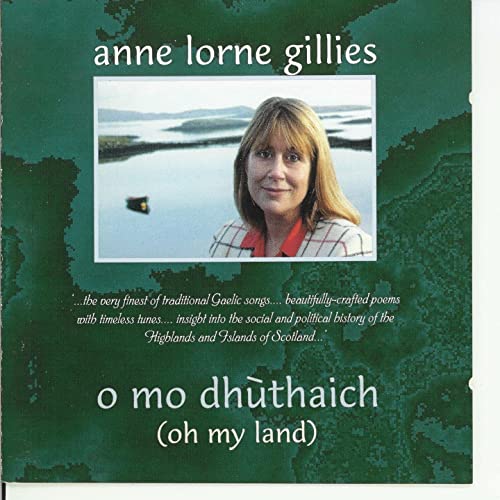 Mo Run Geal Og (My Fair Young Love)
Anne Lorne Gillies writes that this song is attributed to Christina Fergusson, a native of Contin, Ross-shire, composed for her husband William Chisholm who was standard bearer for Clan Chisholm at Culloden. After the battle he single-handedly defended his sheltering clansmen at the door of a barn till he was cut down.
Mo Run Geal Og (My Fair Young Love)
Anne Lorne Gillies
IRCD 0562, IONA
Anne Lorne Gillies comments, "Ultimately this song is a deeply intimate and poignant picture of a loving relationship cruelly torn apart, and a woman who has lost her raison d'etre and status in the world." 
Anne has sung throughout the world, and in the 1970s and '80s on many TV and radio series. Since then she has worked to support and develop Gaelic-medium education, lectured and taught widely, and taught songs to many singing students.
On the Water
There are many songs of travel or work on the water in the Gaelic and Scots traditions. Here are singers Barbara Dickson and Archie Fisher singing a Scots Jacobite song that had been worked over by Robert Burns, "Ower The Water Tae Charlie." They and Billy Connolly talk about the early days of the Scottish Folk Revival. 
Banjo-playing Connolly began as a Glasgow-based performer of US Old Timey numbers like Cripple Creek, his song introductions lengthened till he became a comedian with a fearless freewheeling observational style, then an actor. Barbara Dickson went on to have Top Twenty hits, then became a dramatic actress before returning to her folk roots world, whereas Archie Fisher continued to make many fine LPs of traditional and original songs, to broadcast for many years as presenter of BBC Radio Scotland' Travelling Folk, and to collaborate with Irish and Canadian singers.
On the Land
Most of the songs and tunes in the Ceilidh, and the others in Scotland's great bundle of songs and tunes, are very specific about the location of the piece and its home place.
Fyvie, Portnockie, Mormond Hill, Strichen, Aberdeen, Burreldale, Glasgow Green, Edinburgh, Banff, Vaternish, Bannockburn, Tough, Delgaty for a start. Many fiddle tunes are named for patrons and their home places. 
Failte Rudha Bhatairnis
Hear the introduction to this song
here
.
Dougie Pincock writes: This is the air of a fairly modern Gaelic song, composed by John Ferguson from Vaternish. Oddly, the tune title in translation means "Welcome to Rhu Vaternish," while the English name of the tune is "Leaving Rhu Vaternish." "Failte" is "Welcome"; "Leaving" would be "Fagail." Rhu Vaternish is Vaternish Point, the northernmost part of the peninsula of Vaternish, in the North East of the Inner Hebridean island of Skye. 
Pipers distinguish between Céol Mór (Great Music) and Pibroch, the classical music of the Highland pipes, and Céol Beag (Little Music). The marches, reels, jigs and song tunes played at the Ceilidh are all Céol Beag. Céol Mór includes salutes (tunes addressed to someone of importance), gatherings (tunes used to gather members of a clan), laments (tunes expressing sadness at someone's death) and tunes associated with historical events. Pibroch is slow and sombre, with a theme which is varied throughout the piece, gradually becoming more complex and rhythmic, then returning to the basic theme at the end.
John Strachan had voice problems all through the Ceilidh. Luckily his voice was in much better fettle during the recording session Hamish Henderson and Alan Lomax held with him at his home in Crichie, a month earlier in July 1951. There he gives seven spirited verses of this martial Aberdeenshire song of death for love, hardly known in 1951, but since then very popular in Scotland in "sing-along-a-tartan" style. Bob Dylan recorded an American version, "Pretty Peggy-O,"' which he had learned from the singing of George and Gerry Armstrong.
The Bonny Lass O Fyvie & The Silver Spear
For over twenty years the Malinky group have continued "their distinctive mission as contemporary champions of traditional Scots song." The lead singer is Karine Polwart, who has since become one of Scotland's finest songwriters in traditional mode.
This song was well known in a settled, rather bowdlerized text taught in Scottish schools, as we can hear from the audience joining in the chorus. Appreciative laughter greets John's more earthy verses and vigorous singing style. Collector Gavin Greig called the rich tune "a perfect one-strain melody." John Strachan farmed at Fyvie, and the market town of Strichen is eighteen miles away, with Mormond Hill just North East of it.
Mormond Braes
Aileen Carr
Cdtrax 171 Greentrax
Aileen comes from a Perthshire family where music was a core part of life, although she was the first to sing upon a stage—working as a teacher, she began performing unaccompanied in folk clubs and festivals. A concert review said of her, "There was nothing to beat the full-blooded, attacking style of Aileen Carr. At her powerful wha-daur-meddle best."
I'm A Young Bonny Lassie
Morrigan's Wake
From Back To Fireland (25th Anniversary)
Italian group Morrigan's Wake are based in Ravenna near Rimini. They say "Morrigan's Wake is a musical group that offers a traditional repertoire from the Celtic area of Northern Europe, in particular Scotland and Ireland." Their musicianship is outstanding, as is their obvious love of and respect for the music they choose to perform. When invited to contribute this track they replied that "It is a Great Honour for US." 
Singer Massimo Pirini found Blanche Wood's recording on "an old album called Heather and Glen.". (Tradition Records, 1961.)  This album was Alan Lomax's second gleaned assembly of his Scottish recordings. Here Massimo does not attempt Scots pronunciation of the lyrics, which blots out some of the rhymes. A tasty version for all that.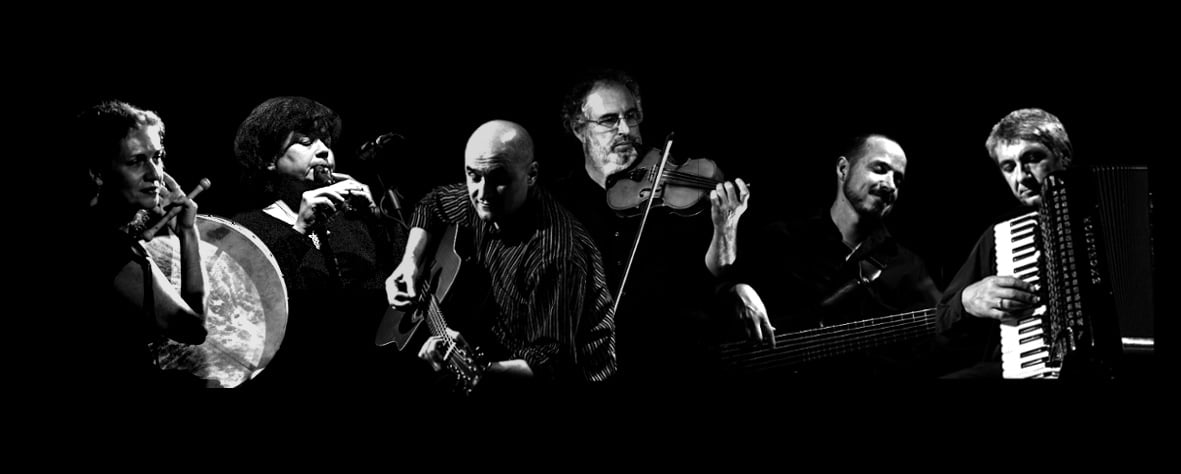 "Brown-haired and bonny Blanche Wood. Hers was the clear, bell-like voice one hears so often in the North." —Alan Lomax on BBC Radio, 1957.
Blanche was born a K-nocker—that is, a resident of the small fishing village of Portknockie, five miles east of the port of Buckie. In 1951 she was 18, and in the Ceilidh she sang songs her aunt, Jessie Murray, had taught her. Blanche's father was a fisherman. He named a new boat for her, The Girl Blanche, launched by Blanche herself at age 15. Blanche married Robert Allen, who sawed the keels for fishing boats; but by 1961 the boatyards had shut, and they moved to Edinburgh where they still live. Blanche and her sister formed a singing act that toured working men's clubs in Scotland and England, singing "more modern songs."
This beguiling song is "absent from the older collections." The tune is better known as the Irish "Brian O'Lynn."
The audience has by now begun to cheer what they are hearing, and applause swamps the recording level.
Farewell To The Alehoose (Aka Johnnie My Man)
A small morality lesson on the evils of the demon drink, reminding us of the strength and manipulative vehemence of the nineteenth-century temperance movement. The transcript of this song in the School of Scottish Studies archives is annotated, "This hodden-grey tear-jerker is a find - can't trace it in any of the earlier collections." (It is in fact in Ord's Bothy Ballads). Another such song was addressed to the publican: "Don't sell daddy any more whisky."
Johnny My Man
Furrow Collective
Furr007 Furrow Recordings
Four talented and individually prominent singers and musicians from both sides of the Border, 'Innovative arrangements, yet never losing the essence of their roots'.
John's recording was reduced to two fragments, as Lomax had to change tapes again. This recording comes from The Rounder Portraits album 'John Strachan, Songs From Aberdeenshire'. 
The tune is one that in the North East is most associated with the favourite song Drumdelgie, which details many of the tasks of the horseman's work. 'Harrowing Time' concentrates on one aspect, the harrowing – dragging a heavy-toothed frame over ploughed land to break up clods and even the ground. John omits two verses in which the 'hard farmer' gives the men no rest, but he keeps in the request for a pay rise.
In Scottish Ballads Emily Lyle comments, "Reactions to this exceedingly widespread ballad have been varied; while some have been moved to tears, others have been impatient with its hero." She instances the comment of Bertrand Bronson that the song had shown "a stronger will-to-live than its spineless lover." Some versions justify the apparent heartlessness of Barbara by explaining her swain had spoken slightingly of her in the alehouse.
In Jean Ritchie's sweet-voiced 1949 recording for Lomax she shares twelve verses. When Scot Allan Ramsay edited his 1763 collection The Tea-Time Miscellany, he gave nine verses. Richard Bronson amassed 200 tune versions in his The Traditional Tunes of the Child Ballads.
Johnnie Brod
Katherine Campbell & Gary West
Sprcd 1041 Springthyme Records
Academic Dr. Katherine Campbell has recorded, written and edited or co-edited several important works about Scotland's song and ballad tradition, including Volume 8 of the Greig-Duncan Collection; The Fiddle In Scottish Culture; Songs From North-East Scotland; the Walter Scott Minstrelsy project and the website www.scotssangsfurschools.com. On this CD she sings ballads from the 1955 rediscovery of "a lost manuscript of a unique traditional ballad repertoire of two sisters." Katherine Campbell sings a version of the ballad written down with the tune by Amelia Harris. She and her sister Jane learned them from their mother Grace when living in the village of Fearn in Angus. Grace Harris had learned many of her ballads in Tibbermore, Perthshire, from an old family nurse, Jannie Scott, who had been with the family since 1745. 
Katherine writes: "This superb ballad (Johnie Cock: Child 114, Greig-Duncan 250) has remained strong in the living tradition in Scotland down to the present day. The Harris version was learned around 1790 and provides the earliest copy of a tune."
 
Johnnie O Braidislie
Hear the introduction
here
.
John seems unprepared to sing this but makes a fine work of the exciting saga of Johnnie, the noble deer poacher, who fights off the King's Foresters (gamekeepers). In some versions they kill him; in others he escapes. Here John omits the elegiac final verse that he sang a month earlier for Henderson and Lomax, in which Johnnie's bow is broken, his dogs slain, and "His body lies in Monymusk, and his huntin days are deen."
This is a most favourite ballad in Scotland. The Greig-Duncan Folk Song Collection shares 22 versions sung to them in the North East in the first quarter of the twentieth century. The longest has 26 verses.
Sweet Willie and Fair Annie a.k.a Lord Thomas a.k.a The Brown Girl a.k.a The Nut-brown Maid
Malinky
Flower & Iron, Greentrax 330
The singer here is Steve Byrne, who works tirelessly on several fronts in the cause of Scotland's traditional song—performing, promoting, organising and supporting. His rich text draws on versions collected by Gavin Grieg and Rev. James Duncan.
Lord Thomas And Fair Ellen
This is another ballad of love's confusions that is sung throughout the English-speaking world. Lord Thomas's parents have urged him to marry for money. The ballad story continues with the brown bride taking offence at Lord Thomas's protestation of love for Ellen and stabbing her to death. Lord Thomas kills his bride, then himself.
Lord Thomas he was standing by
His sword ground keen and small
With one swipe he cut off his bride's head
and kicked it against the wall.
All three bodies are laid in one grave, and our "hero" continues to show his contempt for his new bride. 
Bury Fair Ellender in my arms, the Brown Girl at my feet. 
 
Announcement of interval, tea and cakes
Hamish, a noted toper, is amused that tea and cake are on offer at the back. He himself would have popped just across the road for a dram in his favourite howff, the Foresthill Bar, now called Sandy Bell's (itself a central site for folk revivalists' music-making).