Harry Cox
March 27, 1885 - May 6, 1991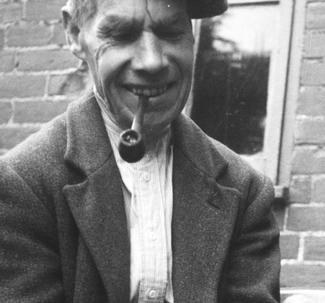 From his discovery in 1945 by folk song collector, E. J. Moeran until shortly before his death, Harry Cox was England's most frequently recorded country singer and the source from whom many modern urban folk revival and folk-rock groups learned their songs.
Harry Cox's extensive folk-song repertoire was regarded by collectors as exceptional. Before World War II, art composers and musicians interested in folk song, like Ralph Vaughan Williams, George Butterworth, and E. J. Moeran, were discovering a fast-fading number of country singers who remembered only a couple of songs they sang at the annual Harvest Home suppers. They may have known more but were possibly reluctant to sing someone else's — old so-and-so's song. Also, the time-consuming process of transcribing words and tunes on to paper interrupted the singers' progression from one song to another.
One collector — one only — early in the twentieth century, way ahead of his time, decided to use the Edison Bell Phonograph, employing wax cylinders. This was Percy Grainger. Not only did he want to get all the idiosyncrasies of the music, the use of non-tempered scales, the subtle changes of rhythm, the holding or shortening of beat notes, the drops and raises, but, in addition, he wanted to capture all the nuances of the local dialect. Grainger made his recordings around the market town of Brigg in Lincolnshire, the next county north of Norfolk, and, as he would have been in Norfolk, he was fascinated by the way the singers extended their regional speech patterns within the musical framework. 
(Excerpt from Peter Kennedy's notes to the album "What Will Become of England")
Appears in 62 items.
| Title | Contributor(s) | Date | Track |
| --- | --- | --- | --- |
| Harry Cox with dancing-man toy at his home | Photographer: Lomax, Alan | Oct 9, 1953 | |
| Harry Cox with dancing-man toy at his home | Photographer: Lomax, Alan | Oct 9, 1953 | |
| Harry Cox with his daughter Myrtle and grandaughter | Photographer: Lomax, Alan | Oct 9, 1953 | |
| Harry Cox with scythe in field | Photographer: Lomax, Alan | Oct 9, 1953 | |
| Harry Cox with scythe in field | Photographer: Lomax, Alan | Oct 9, 1953 | |
| Harry Cox in field | Photographer: Lomax, Alan | Oct 9, 1953 | |
| Harry Cox with scythe in field | Photographer: Lomax, Alan | Oct 9, 1953 | |
| Harry Cox with scythe in field | Photographer: Lomax, Alan | Oct 9, 1953 | |
| Harry Cox with dancing-man toy and his granddaughter at his home | Photographer: Lomax, Alan | Oct 9, 1953 | |
| Harry Cox and granddaughter at his home | Photographer: Lomax, Alan | Oct 9, 1953 | |
| The Shooting Of His Dear | Performer: Cox, Harry; Recordist: Lomax, Alan | 1951 | 2 |
| The Barley Straw | Performer: Cox, Harry; Recordist: Lomax, Alan | 1951 | 6 |
| Interview with Harry Cox about his grandfather's songs (fragment) | Performer: Cox, Harry; Recordist: Lomax, Alan | Nov 27, 1953 | 1 |
| Interview with Harry Cox about London Is Sharp As The Edge Of A Knife | Performer: Lomax, Alan; Performer: Cox, Harry; Recordist: Lomax, Alan | Nov 27, 1953 | 2 |
| London Is As Sharp As The Edge Of A Knife | Performer: Cox, Harry; Recordist: Lomax, Alan | Nov 27, 1953 | 3 |
| Interview with Harry Cox about London Is As Sharp As The Edge Of A Knife, travelling to London, and the benefits of country life | Performer: Lomax, Alan; Performer: Cox, Harry; Recordist: Lomax, Alan | Nov 27, 1953 | 4 |
| The Bonny Bunch Of Roses | Performer: Cox, Harry; Recordist: Lomax, Alan | Nov 27, 1953 | 5 |
| Interview with Harry Cox about The Bonny Bunch Of Roses and Napoleon | Performer: Lomax, Alan; Performer: Cox, Harry; Recordist: Lomax, Alan | Nov 27, 1953 | 6 |
| The Foggy Dew | Performer: Cox, Harry; Recordist: Lomax, Alan | Nov 27, 1953 | 7 |
| Interview with Harry Cox about The Foggy Dew | Performer: Lomax, Alan; Performer: Cox, Harry; Recordist: Lomax, Alan | Nov 27, 1953 | 8 |
| Interview with Harry Cox about his birthplace and his upbringing | Performer: Lomax, Alan; Performer: Cox, Harry; Recordist: Lomax, Alan | Dec 2, 1953 | 1 |
| Interview with Harry Cox about his grandfather and father | Performer: Lomax, Alan; Performer: Cox, Harry; Recordist: Lomax, Alan | Dec 2, 1953 | 2 |
| Knife In The Window | Performer: Cox, Harry; Recordist: Lomax, Alan | Nov 27, 1953 | 1 |
| Interview with Harry Cox about Knife In The Window | Performer: Lomax, Alan; Performer: Cox, Harry; Recordist: Lomax, Alan | Nov 27, 1953 | 2 |
| It's Of An Old Miser In London Did Dwell | Performer: Cox, Harry; Recordist: Lomax, Alan | Nov 27, 1953 | 3 |
| Interview with Harry Cox about women, sex, and preserving the Cox family name | Performer: Lomax, Alan; Performer: Cox, Harry; Recordist: Lomax, Alan | Nov 27, 1953 | 1 |
| What Will Become Of England? | Performer: Cox, Harry; Recordist: Lomax, Alan | Nov 27, 1953 | 2 |
| Interview with Harry Cox about What Will Because Of England? | Performer: Lomax, Alan; Performer: Cox, Harry; Recordist: Lomax, Alan | Nov 27, 1953 | 3 |
| Barton Broad Babbing Ballad | Performer: Cox, Harry; Recordist: Lomax, Alan | Nov 27, 1953 | 4 |
| Interview with Harry Cox about Barton Broad Babbling Ballad and property owners | Performer: Lomax, Alan; Performer: Cox, Harry; Recordist: Lomax, Alan | Nov 27, 1953 | 5 |
| Talk/ambience | Performer: Lomax, Alan; Performer: Cox, Harry; Recordist: Lomax, Alan | Dec 2, 1953 | 1 |
| Long Peg And Awl | Performer: Cox, Harry; Recordist: Lomax, Alan | Dec 2, 1953 | 2 |
| Interview with Harry Cox about Long Peg And Awl and Cruising Round Yarmouth | Performer: Lomax, Alan; Performer: Cox, Harry; Recordist: Lomax, Alan | Dec 2, 1953 | 3 |
| Cruising Round Yarmouth | Performer: Cox, Harry; Recordist: Lomax, Alan | Dec 2, 1953 | 4 |
| Interview with Harry Cox about Cruising Round Yarmouth | Performer: Lomax, Alan; Performer: Cox, Harry; Recordist: Lomax, Alan | Dec 2, 1953 | 5 |
| She Was A Rum One | Performer: Cox, Harry; Recordist: Lomax, Alan | Dec 2, 1953 | 6 |
| Interview with Harry Cox about whoring and sex | Performer: Lomax, Alan; Performer: Cox, Harry; Recordist: Lomax, Alan | Dec 2, 1953 | 7 |
| The Maid Of Australia | Performer: Cox, Harry; Recordist: Lomax, Alan | Dec 2, 1953 | 8 |
| Interview with Harry Cox about The Maid Of Australia | Performer: Lomax, Alan; Performer: Cox, Harry; Recordist: Lomax, Alan | Dec 2, 1953 | 9 |
| Firelock Stile | Performer: Cox, Harry; Recordist: Lomax, Alan | Dec 2, 1953 | 10 |
| Adieu To Old England | Performer: Cox, Harry; Recordist: Lomax, Alan | Dec 2, 1953 | 11 |
| Interview with Harry Cox about Adieu To Old England | Performer: Lomax, Alan; Performer: Cox, Harry; Recordist: Lomax, Alan | Dec 2, 1953 | 12 |
| Maggie May | Performer: Cox, Harry; Recordist: Lomax, Alan | Dec 2, 1953 | 13 |
| Seventeen Come Sunday | Performer: Cox, Harry; Recordist: Lomax, Alan | Dec 2, 1953 | 14 |
| Interview with Harry Cox about sex and courting | Performer: Lomax, Alan; Performer: Cox, Harry; Recordist: Lomax, Alan | Dec 2, 1953 | 15 |
| Stormy Old Weather | Performer: Cox, Harry; Recordist: Lomax, Alan | Nov 27, 1953 | 1 |
| Interview with Harry Cox about Stormy Old Weather (The Fishes) | Performer: Lomax, Alan; Performer: Cox, Harry; Recordist: Lomax, Alan | Nov 27, 1953 | 2 |
| The Pretty Ploughboy | Performer: Cox, Harry; Recordist: Lomax, Alan | Nov 27, 1953 | 3 |
| Interview with Harry Cox about The Pretty Ploughboy and the press gang | Performer: Lomax, Alan; Performer: Kennedy, Peter; Performer: Cox, Harry | Nov 27, 1953 | 4 |
| The Blackberry Fold | Performer: Cox, Harry; Recordist: Lomax, Alan | Nov 27, 1953 | 5 |