Vera Ward Hall
April 6, 1902 - January 29, 1964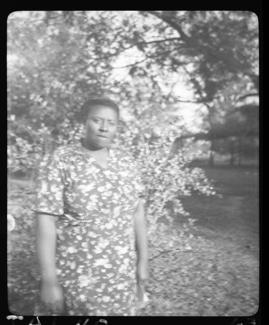 Adele "Vera" Ward Hall (1902-1964), despite her exquisite singing abilities and her extensive repertoire, worked all of her life as a washerwoman, nursemaid, and cook. She first came to the attention of John A. Lomax in 1937, when Ruby Pickens Tartt, folklorist and chair of the Federal Writers' Project of Sumter County, Alabama, introduced them; Lomax recorded Hall during three separate sessions in 1937, 1939, and 1940, writing that she had "the loveliest voice I have ever recorded." She sang Baptist hymns with her cousin Dock Reed and other Livingston friends like Jesse Allison, but she was also willing to record blues, ballads, hollers, and "worldly songs" such as "Stagolee" and "John Henry" learned from her friend Rich Amerson (and forbidden by her family).
Alan Lomax met Hall in 1948, when he arranged for her and Reed to come New York City for an American Music Festival. (It was Vera's first and only time out of Alabama.) Their time together resulted in six- and-a-half hours of recordings and the raw material for her oral biography, which Lomax published in The Rainbow Sign. In that book, published in 1959 (the same year Hall made her last recordings, for Alan), Vera is called "Nora" to protect her identity and honor her confidence. Five years later Lomax wrote in her obituary in Sing Out! magazine: "The sound comes from deep within her when she sings, from a source of gold and light, otherwise hidden, and falls directly upon your ear like sunlight.... It is from singers like Vera Hall that all of us who love folk music in American have everything to learn. Her performances were all graced with dignity and love."
Appears in 150 items.
| Title | Contributor(s) | Date | Track |
| --- | --- | --- | --- |
| Vera Ward Hall at her home | Photographer: Lomax, Alan | Oct 10, 1959 | |
| Vera Ward Hall at her home | Photographer: Lomax, Alan | Oct 10, 1959 | |
| Vera Hall 1948 | Contributor: Hall, Vera Ward | May 1, 1948 | |
| New York City 5/48 | Contributor: Hall, Vera Ward | May , 1948 | |
| Commentary by Vera Hall on courtship games and riddles | Performer: Lomax, Alan; Performer: Hall, Vera Ward; Recordist: Lomax, Alan | May 1, 1948 | 1 |
| Young Speckled Lady | Performer: Hall, Vera Ward; Recordist: Lomax, Alan | May 1, 1948 | 2 |
| Commentary by Vera Hall on Young Speckled Lady | Performer: Lomax, Alan; Performer: Hall, Vera Ward; Recordist: Lomax, Alan | May 1, 1948 | 3 |
| Riding In A Buggy | Performer: Lomax, Alan; Performer: Hall, Vera Ward; Recordist: Lomax, Alan | May 1, 1948 | 4 |
| Yes Ma'am / Interview with Vera Hall about Yes Ma'am | Performer: Lomax, Alan; Performer: Hall, Vera Ward; Recordist: Lomax, Alan | May 1, 1948 | 5 |
| Interview with Vera Hall about dance steps and patting | Performer: Lomax, Alan; Performer: Hall, Vera Ward; Recordist: Lomax, Alan | May 1, 1948 | 6 |
| Ain't Gonna Rain No More (fragment) | Performer: Hall, Vera Ward; Recordist: Lomax, Alan | May 1, 1948 | 7 |
| Commentary by Vera Hall on Ain't Gonna Rain No More | Performer: Lomax, Alan; Performer: Hall, Vera Ward; Recordist: Lomax, Alan | May 1, 1948 | 8 |
| Rosie Baby | Performer: Hall, Vera Ward; Recordist: Lomax, Alan | May 1, 1948 | 9 |
| Commentary by Vera Hall on Rosie Baby and her mother | Performer: Lomax, Alan; Performer: Hall, Vera Ward; Recordist: Lomax, Alan | May 1, 1948 | 10 |
| Railroad Bill (I) | Performer: Hall, Vera Ward; Recordist: Lomax, Alan | May 1, 1948 | 1 |
| Railroad Bill (II) | Performer: Hall, Vera Ward; Recordist: Lomax, Alan | May 1, 1948 | 2 |
| Interview with Vera Hall about Railroad Bill and Stagolee | Performer: Lomax, Alan; Performer: Hall, Vera Ward; Recordist: Lomax, Alan | May 1, 1948 | 3 |
| Stagolee | Performer: Hall, Vera Ward; Recordist: Lomax, Alan | May 1, 1948 | 4 |
| Riding In A Buggy (I) | Performer: Hall, Vera Ward; Recordist: Lomax, Alan | May 1, 1948 | 5 |
| Yes Ma'am (II) | Performer: Hall, Vera Ward; Recordist: Lomax, Alan | May 1, 1948 | 6 |
| Rosie Baby (II) | Performer: Hall, Vera Ward; Recordist: Lomax, Alan | May 1, 1948 | 7 |
| Come Up, Horsey | Performer: Hall, Vera Ward; Recordist: Lomax, Alan | May 1, 1948 | 8 |
| I Got A Home In That Rock | Performer: Hall, Vera Ward; Recordist: Lomax, Alan | May 1, 1948 | 1 |
| Commentary by Vera Hall on her mother's songs and her siblings | Performer: Lomax, Alan; Performer: Hall, Vera Ward; Recordist: Lomax, Alan | May 1, 1948 | 2 |
| All Hid | Performer: Hall, Vera Ward; Recordist: Lomax, Alan | May 1, 1948 | 3 |
| Commentary by Vera Hall on hide and seek | Performer: Lomax, Alan; Performer: Hall, Vera Ward; Recordist: Lomax, Alan | May 1, 1948 | 4 |
| What Is The Soul Of Man? | Performer: Hall, Vera Ward; Recordist: Lomax, Alan | May 1, 1948 | 1 |
| Mean Old Bedbug Blues | Performer: Hall, Vera Ward; Recordist: Lomax, Alan | May 1, 1948 | 2 |
| Trouble In Mind (I) | Performer: Hall, Vera Ward; Recordist: Lomax, Alan | May 1, 1948 | 3 |
| Trouble In Mind (II) | Performer: Hall, Vera Ward; Recordist: Lomax, Alan | May 1, 1948 | 4 |
| The Black Cat (The Black Cat And The White Cat) (fragment) | Performer: Hall, Vera Ward; Recordist: Lomax, Alan | May 1, 1948 | 5 |
| Commentary by Vera Hall on interracial relationships | Performer: Lomax, Alan; Performer: Hall, Vera Ward; Recordist: Lomax, Alan | May 1, 1948 | 6 |
| Wild Ox Moan (I) | Performer: Hall, Vera Ward; Recordist: Lomax, Alan | May 1, 1948 | 1 |
| Last Month Of The Year (I) | Performer: Hall, Vera Ward; Recordist: Lomax, Alan | May 1, 1948 | 2 |
| Last Month Of The Year (II) | Performer: Hall, Vera Ward; Recordist: Lomax, Alan | May 1, 1948 | 3 |
| Boll Weevil (I) | Performer: Hall, Vera Ward; Recordist: Lomax, Alan | May 1, 1948 | 4 |
| Boll Weevil (II) | Performer: Hall, Vera Ward; Recordist: Lomax, Alan | May 1, 1948 | 5 |
| Wild Ox Moan (II) | Performer: Hall, Vera Ward; Recordist: Lomax, Alan | May 1, 1948 | 6 |
| Wild Ox Moan (III) | Performer: Hall, Vera Ward; Recordist: Lomax, Alan | May 1, 1948 | 7 |
| Commentary by Vera Hall on becoming a Christian (I) | Performer: Lomax, Alan; Performer: Hall, Vera Ward; Recordist: Lomax, Alan | May 1, 1948 | 1 |
| He That Believe Have An Everlasting Home | Performer: Hall, Vera Ward; Recordist: Lomax, Alan | May 1, 1948 | 2 |
| Commentary by Vera Hall on becoming a Christian (II) | Performer: Lomax, Alan; Performer: Hall, Vera Ward; Recordist: Lomax, Alan | May 1, 1948 | 3 |
| All My Sins Been Taken Away | Performer: Hall, Vera Ward; Recordist: Lomax, Alan | May 1, 1948 | 4 |
| Commentary by Vera Hall on becoming a Christian (III) | Performer: Hall, Vera Ward; Recordist: Lomax, Alan | May 1, 1948 | 5 |
| Show Me The Way | Performer: Hall, Vera Ward; Recordist: Lomax, Alan | May 1, 1948 | 6 |
| Commentary by Vera Hall on becoming a Christian (IV) | Performer: Lomax, Alan; Performer: Hall, Vera Ward; Recordist: Lomax, Alan | May 1, 1948 | 7 |
| Commentary by Vera Hall on her mother's death | Performer: Lomax, Alan; Performer: Hall, Vera Ward; Recordist: Lomax, Alan | May 1, 1948 | 1 |
| I'll Fly Away | Performer: Hall, Vera Ward; Recordist: Lomax, Alan | May 1, 1948 | 2 |
| Interview with Vera Hall about the songs she sings when alone | Performer: Lomax, Alan; Performer: Hall, Vera Ward; Recordist: Lomax, Alan | May 1, 1948 | 3 |
| When I Can Read My Titles Clear | Performer: Hall, Vera Ward; Recordist: Lomax, Alan | May 1, 1948 | 4 |